---
Rail Safety
Cloverleaf Corporation is committed to making railroad crossings and right-of-way safer for motorists and pedestrians in Florida. Cloverleaf can work with your municipality to define solutions at problem crossings and help with the development of Quiet Zone corridors.
---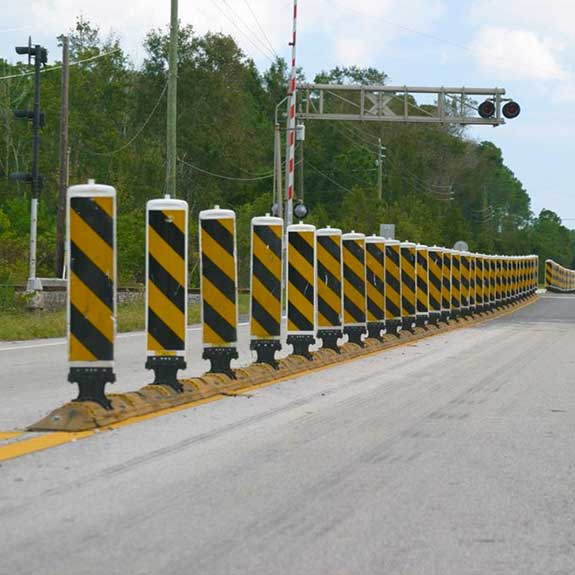 Qwick Kurb Traffic Channelization Device
Proclaimed the least expensive safety measure to significantly improve grade crossing safety. QWICK KURB is the only median separator system that has been involved in an FRA sponsored test and proven to reduce motorist drive arounds by over 75%! The combination of formidable markers and raised mountable separator deter drive-arounds and still allow emergency vehicles a way out.
Under the FRA Final Rule on the Use of Locomotive Horns at Highway Rail Grade Crossings, provisions were made for municipalities to establish Quiet Zones corridors – section of track where the train horns were not routinely sounded. In order to qualify a crossing for a Quiet Zone, certain Supplemental Safety Measures (SSM's) need to be in place. The most economical SMM is raised mountable channelizing devices. Within three hours and without the need for heavy road work, a typical highway-rail grade crossing can be upgraded to qualify for a quiet zone.
Product Information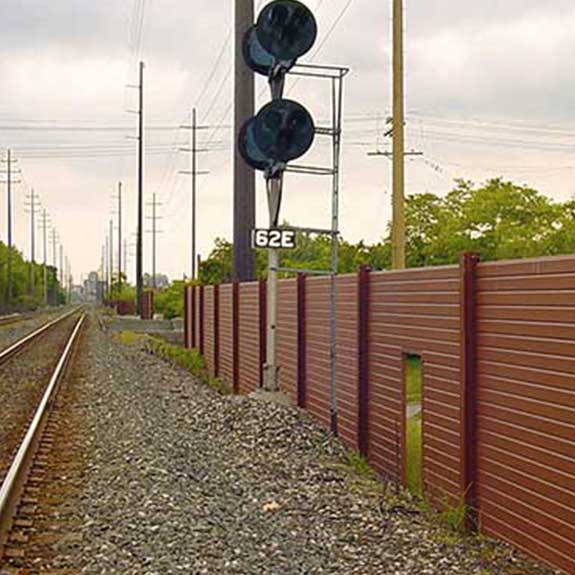 AcoustaShield Non-Conductive Sound Wall
Carsonite's AcoustaShield™ Sound Barrier Systems provide noise abatement along railroad corridors adjacent to residential areas. A first of its kind, AcoustShield is the only This is the first of non-electrically conductive structural sound wall. Traditional concrete precast panel sound walls require large grounding grids, but not AcoustaShield! All the above ground components (panels and uprights) are manufactured of structural fiberglass.
Unlike large concrete precast panels that require large equipment to handle and large foundations to support, the AcoustaShield walls are lighter weight and easier to construct in narrow, space constrained areas. The individual fiberglass planks can be handled by two people without the use of cranes.
Available in reflective or absorptive styles and easily customized, the system lets you design your sound wall to fit your specific needs and aesthetics.
Learn More