---
Truck Mounted Attenuators (TMAs)
Cloverleaf Corporation is a distributor for truck and trailer mounted attenuators. In addition to supplying NCHRP 350 TL-3 and TL-2 TMA's, Cloverleaf is manufacturer certified to maintain and repair your fleet of to keep your workers and equipment safe. All TMA systems supplied meet or exceed all FHWA and FDOT requirements.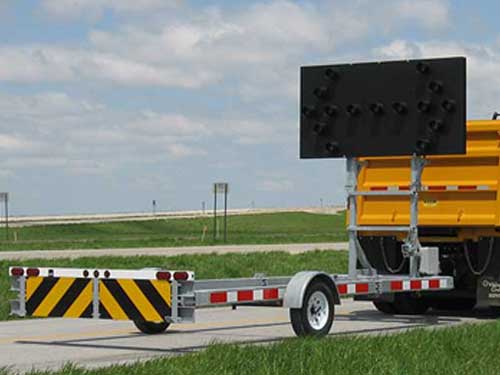 ---
TTMA-100 Trailer TMA
EASY DEPLOYMENT, NO MODIFICATION TO SUPPORT VEHICLE REQUIRED
The TTMA-100 Trailer Truck Mounted Attenuator features a standard 8-ton pintle hitch for easy attachment to almost any 10,000-lb GVW or more heavy duty construction vehicle. No modification to the towing vehicle is required.
Available in a TL-3 high speed model only, tube bursting technology allows the TTMA-100 to use part of its trailer frame as the energy absorber. After a design impact, the expended bursting tube side rails can be replaced and the trailer is operational once again.
An optional arrow board stand is available that accommodates a standard 4' x 8' arrow panel. Cloverleaf offers a solar wireless arrow board package allowing for arrow board control both inside and outside of the cab.
NCHRP 350 TL-3 Classification
Meets all standard and optional tests, including infinite weight test | FDOT APL# 102-037-003
Get A Quote
---
UMAD Truck Mounted Attenuators
TL-2 & TL-3 TMA PROTECTION with REUSABLITY IN MIND
U-MAD Truck Mounted Attenuators (TMAs) offer outstanding performance and quick, simple refurbishment. The U-MAD TMA is available as a TL-2 or TL-3 System. A variety of mounting kits are available including a Quick Disconnect kit that allows the entire cartridge to be removed and stored so the truck can be used in other operations. After a design impact only the cartridge typically needs replacement.
Cloverleaf is a certified U-MAD Repair Facility. We can assess the condition of your U-MAD after an impact and make the required pairs to put it back into service.
NCHRP 350 TL-2, TL-3 Classification
Passes all mandatory and optional tests | FDOT APL# 102-027-010 (TL-3) & 102-027-014 (TL-2)
Get A Quote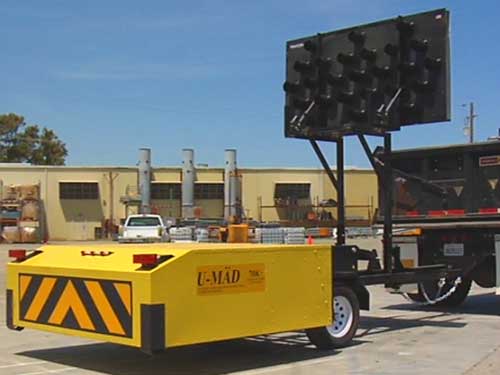 ---
U-MAD Trailer TMA
TL-2 & TL-3 TRAILER TMA PROTECTION with REUSABLITY IN MIND
The U-MAD Trailer TMA features a reusable trailer that only requires replacement of a standard U-MAD TMA cartridge after design impacts.
The U-MAD Trailer TMA has been engineered to capture an errant vehicle during a design impact and keeps both the impacted and impacting vehicles in the same traveling lane. Available in TL-2 and TL-3 models.
NCHRP 350 TL-2, TL-3 Classification
Passes all mandatory and optional tests | FDOT APL# 102-037-002 (TL-3) & 102-037-001 (TL-2)
Get A Quote